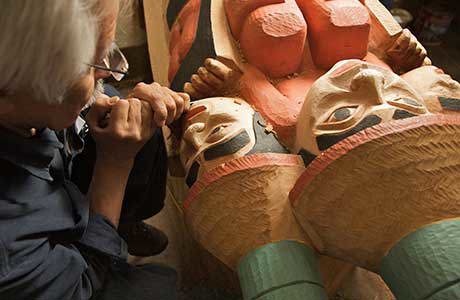 Ketchikan is home to a large and diverse population of artists who find inspiration in the scenic beauty, flora and fauna and the historic and cultural attributes of our town. More than 350 of our local residents are registered artists and their work can be seen everywhere from on piling caps around the promenade to in the shops and galleries in town.
View all Properties on Map
US DOI/Indian Arts and Crafts Board

Buy American – Support Authentic Alaska Native Art. The Indian Arts and Crafts Board (IACB), U.S. Department of the Interior promotes the economic development of federally recognized Alaska Natives and American Indians (Indians) through the expansion of the Indian art and craft market.   More...

The Soho Coho

A contemporary art and craft gallery featuring local artists and natural history items. Located on Creek Street, the Soho Coho is also planetary headquarters of Ketchikan artist Ray Troll.

Ketchikan Area Arts & Humanities Council

The Ketchikan Area Arts & Humanities Council is a member-based non-profit organization that has been providing exceptional arts experiences and opportunities since 1953. Featuring local artists & annual events like the Blueberry Arts Festival.

Scanlon Gallery & Custom Framing

Ketchikan's premier art gallery since 1972. Home of the largest selection of Alaskan artists, Originals, Prints, Wall Art, Pottery, Sculptures, Hand-Crafted Jewelry & Gifts. Locally owned and operated year round. Located under the Ketchikan Welcome Arch.

First City Players

First City Players is a non-profit community organization dedicated to promoting and developing lifelong artists and audiences in the greater Ketchikan community and brings them together for dynamic and meaningful experiences in the performing arts.

Starboard Frames and Gifts

A full-service custom picture framing shop and gallery with an emphasis on local art and artists. Our new downtown location allows greater exposure for our artists as well as accessibility for our year-round framing customers.

Arctic Spirit Gallery

Alaskan & Northwest Coast Native Art Gallery: Totem poles, masks, argillite carvings, scrimshaw, bentwood boxes, baleen, cedar & seagrass baskets, whale bone & walrus ivory carvings. Locally owned, open year round & located under the welcome arch.

Fish Creek Company

Fish Creek Company offers many unique items from Hamilton's photographs to Alaskan Native Silver and Gold Jewelry, Fossil Mammoth Jewelry, Walrus Ivory Jewelry, Whalebone, and Alaskan Ivory Carvings, Alaskan Native Art Prints, Alaskan Totem Poles...

Alaska Eagle Arts

This art gallery boasts 32 years of the finest in Northwest Coast Native Art in Southeast Alaska! Owned and operated by lifetime resident Brigette Ellis, the gallery has been the worldwide headquarters for Contemporary Native Artist Marvin Oliver. His colorful works in paper, glass, and bronze dazzle the walls. We...