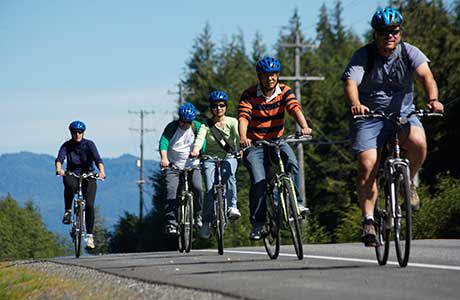 Whether you're interested in Native Alaskan culture, the early pioneers who settled Southeast Alaska, local artists, shopping, fishing, or the great outdoors, you can find your perfect day right here in Ketchikan. And the best part is, no matter what you do, you will be surrounded by nature on all sides!
Southeast Alaska is home to three Native groups, the Tlingit, Haida and Tsimshian, and each bring their cultural traditions to color our life here. Ketchikan also has a rich heritage of Norwegian halibut fishermen and boat builders, Asian merchants and cannery workers, English entrepreneurs and other pioneers who started arriving in the late 19th century to find adventure and build new lives in the last frontier.
Our downtown area is easily walkable and dotted with historically significant buildings and shops featuring the work of local carvers, weavers, jewelry designers, painters, sculptors, photographers, writers, and more.
If you love the outdoors, you've really come to the right place! Spending a day in the environs of our temperate rainforest can include an array of amazing experiences: ziplining between the tall trees over salmon streams (and bears!), hiking to the top of Deer Mountain, flying over the Misty Fjords in a floatplane, catching a fish (or four) on a fishing charter, or just taking a picnic lunch and spend a few hours looking for whales, sea lions and other signs of sea life along the shore.